School Holidays for 2020/21
Latest News
August 23, 2020
This resource was developed in response to early years educators identifying a need to support children and ease parental anxiety in relation to transition to school during the Covid19 crisis in 2020. Preparing for Life facilitated online...
July 1, 2020
Junior Infants Book List Senior Infants Book List First Class Book List Second Class Book List
June 24, 2020
Download the PDF file .
Principal's Blog
May 25, 2020
As well as our Gaeilge and English, in Belgrove we also use another language- Lámh. This is a language adapted from sign language which boys who do not yet communicate verbally use to communicate...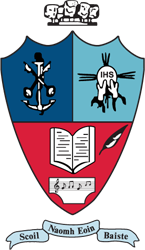 Latest in the Gallery