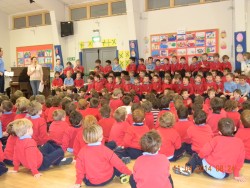 The Origin of the name Belgrove is not really known but is thought to have come from the French word "Belle" (beautiful) and Grove (wood). The Schools were originally located on Vernon Avenue on the site which later became the all-weather hockey pitch for Holy Faith Convent School. The buildings were constructed during the Famine Years (approx 1846) and the schools operated here till they became dilapidated and more room was needed to take in the extra pupils looking to be accommodated.
So in 1940, St. John's House (now Belgrove House, home of Clontarf GAA and crèche) plus two acres of land were bought, and became St. John the Baptist Schools. The name was never quite as popular as Belgrove Schools, but the reputation of the Schools as "a" centre of learning was widespread.
By 1956, the roll contained the names of 700 boys and 600 girls who were being taught in every available space in the building and so in 1955/56 a 9-room boys school was built, which became the Junior Boys' School, followed in 1964 by 10 more classrooms which then became the Senior Boys' School. The Girls were rehoused in 1971.
One cannot speak of Belgrove Junior Boys' School without mentioning John McGahern who for some years before he became better known as an author, put the boys of Clontarf through their paces both inside and out of the classroom.
Current principal Mr. John O'Sullivan succeeded Mr. Vincent Conway in September 2010. His first few years were busys ones as he led the Junior Boys' School through a period of  great change when major construction and refurbishment works took place. See our section on ' Our Building' which documents the construction of the new current school .
At present the school has a total of 30 staff – teachers, special needs assistants, secretary and caretaker. We have come a long way since the early days of Belgrove Schools on Vernon Avenue. No longer are we confined to the teaching of the "Three Rs", but still we pride ourselves on the excellent reputation that was established in those difficult times.