Room 4 Summer Nature Walk
Latest News
May 7, 2019
Ger Dinan, GAA Games Promotion Officer, is leaving us to take up a post in his native Cork. He will be replaced by Will Lillis whom many of you will know. We bid a...
March 14, 2019
The school holiday dates for 2019-2020 have been finalised. You can download them here.
February 19, 2019
Our Spring Newsletter is now available for you to read all about our recent school activities and events
Principal's Blog
May 23, 2019
During Maths week last year, Ms. Róisín Gray who holds the special duties post covering Maths in the school entered the Maths Eyes competition which is organised by the DES, and The Technological University...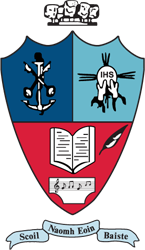 Latest in the Gallery