Latest News
March 31, 2018
St. John the Baptist Junior Boys' School Newsletter  31st March 2018 A thuismitheoirí agus a chaomhnóirí, The first three months of 2018 have been among the busiest in a long time. The...
March 11, 2018
Well done on an excellent performance by all the Belgrove JBS students at Corfheile na Scoileanna 2018. You can watch a video of their performance here: https://photos.app.goo.gl/aLljRFIFmNiwnfs82
February 2, 2018
You will have heard I am sure about the death of Mrs. Patricia O' Donoghue, recently retired principal of Belgrove Junior Girls' School. Her death so soon after her retirement is an enormous loss...
Principal's Blog
March 22, 2018
Having postponed our annual quiz from the 2nd to the 16th of March due to the Snow wrought by the Beast from the East, we were delighted with how well the night went. As...
Upcoming Events
April 27, 2018
April 28, 2018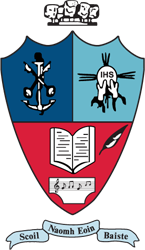 Latest in the Gallery