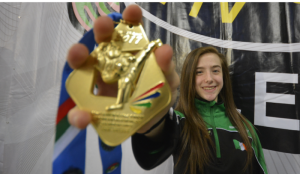 Our Active School Team and of course Active Archie were delighted to welcome Rebecca Mooney, the recently-crowned Taekwondo World Champion and European Champion, to our school on Thursday last. She is the only competitor who won two championships in the same year- this is an amazing achievement! Rebecca started Taekwondo when she was nine. She is seventeen now and through all those years she has been working hard to achieve her current level of performance. As she said, she has to practice 6 or 7 days a week and eat a lot of vegetables, chicken, rice and pasta to replace the energy she expends during her training. She is graded at black belt in Taekwondo and Kickboxing and she has represented Clontarf TKD and Ireland in international competitions.
Rebecca we are proud of you and wish you continued success with your career. We hope that this is just the beginning in Taekwondo and Kickboxing and you will bring much more pride to your club here in Clontarf.
Archie is always delighted to meet sportspeople who take part in both team and individual sports. He was delighted to let everyone know that Rebecca is a perfect example our active school motto…More kids, more active, more often!
The Team's campaign to renew our Active School Flag is gathering momentum and visits from athletes in the community like Rebecca are an essential element of the team's work. Clontarf Tae Kwando is based in the School Hall here in St. John the Baptist JBNS. Many pupils from the school are club members and we hope that many will follow in Rebecca's illustrious footsteps.