Latest News
March 14, 2019
The school holiday dates for 2019-2020 have been finalised. You can download them here.
February 19, 2019
Our Spring Newsletter is now available for you to read all about our recent school activities and events
January 9, 2019
Are you concerned about yourself, a child or another family member and would like some advice? Come along to our Psychology Advice Clinic and speak to a Psychologist about your concerns. WHEN: The second...
Principal's Blog
March 7, 2019
Cóghairdeas ó chroí to the boys from 1st classes who took part in the annual Córfhéile in the National Basketball Arena yesterday. Credit especially to Kate Martin, Maria O' Dwyer, Ger Harvey and Mary...
Upcoming Events
April 21, 2019
April 22, 2019
April 23, 2019
April 24, 2019
April 25, 2019
April 26, 2019
April 27, 2019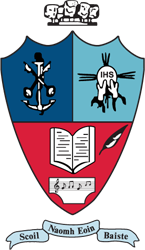 Latest in the Gallery