First Communion Boys in the Yard
Latest News
January 9, 2019
Are you concerned about yourself, a child or another family member and would like some advice? Come along to our Psychology Advice Clinic and speak to a Psychologist about your concerns. WHEN: The second...
December 26, 2018
Merry Christmas to our school community!! Our December Newsletter is now available for you to read all about our recent school activities and events.
October 28, 2018
Read all about what's been happening at Belgrove JBS for the past few months in our September / October Newsletter
Principal's Blog
January 14, 2019
A big thank you to Daragh Clrke, Neill Hogg, Tom O' Brien Micheál O' Connell, Kris Sierant and Yu Lei (accompanied by some very helpful boys!) who spent a very intensive one-hour session on...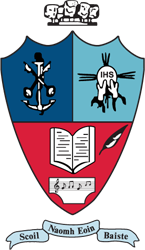 Latest in the Gallery